Business Analyst Training
Become Business Analyst Certified.
Business Analysis Foundation
Business Benefits Realization
Business Process Modeling
Agile Requirements
Requirements Elicitation and Analysis
Data Science Foundations
Leadership Foundations
Communication Foundations
Hands-On & Access to Business Analyst Training​
You will receive more than 20 hands-on labs projects on Jira, Microsoft Word, Excel and PowerPoint
Below are summary of hands-on labs:
Jira
Customizing Issues, Screen, Workflow
Basic and Advance Settings, Permissions, Access, etc
Manage Users, Projects, Products, Apps
Microsoft Word
Create, save, and share documents to more advanced tasks, like tracking changes, line spacing, automating a table of contents, mail merge for letters
Microsoft Excel
Essential functions and formulas, sorting, filtering, and creating charts.  
XLOOKUP, create Pivot Tables, record simple macros
Microsoft PowerPoint
Use themes and layouts, add audio-visual components to your presentation, add animations, print, reuse and copy slides plus more
Our training includes job placement which consists of:
Resume Building: A career coach and our recruiting agency will develop a resume that reflects the hands-on training student received and that will stand out to employers.
Job Search: The career coach will find you suitable jobs, connect students with employers and facilitate job interviews with employers.
Interview Preparation: Our career coach and recruiting agency will provide mock interviews and interview coaching to prepare students for job opportunities.
Job Support: After the recruiting agency successfully places you in the job, they will provide job support. They will help you do your job in the first few months.
In-Person & Virtual Class Schedule
We have combined the best of both worlds, our CompTIA Security+ training is both in-person and virtual at the same time. The instructor will be in-person and also, we will broadcast the class virtually so remote students can join. Instructor will teach both in-person and virtual students.
Starts: April 15th, 2023
Days/Time: Saturday 10AM
As a non-profit with the mission of making IT job opportunities accessible to everyone, ImpactTek hands-on courses are heavily discounted at up to 80% off and it's FREE for qualified students. Call to find out how to get the courses for free.
Not Sure If Its The Right Fit For You? Take the skills assessment to find out the best program that's a good fit for you. Click here to take assessment.
Join Virtual Information Session You can also join our weekly information On Sundays at the 7:00PM EST to find out if you qualify for FREE training and how to break into IT field. Click to Join Information Session.
Contact Us to Join FREE 6 Days Security+ Class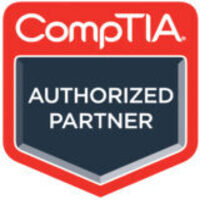 ImpactTek is CompTIA Authorized Partner and is certified by the State Council of Higher Education for Virginia or SCHEV.